OUR MISSION
We strive to provide consistency, pursue excellence, and build relationships
Custom Cabinetry & Countertops Granite World is your go-to "hometown" option for cabinets and countertops.  Projects range from replacing an old vanity to designing the next custom, HGTV inspired kitchen.  Our designers, fabricators and installers are here to advise and assist you every step of the way.
We are a cabinetry company that provides custom designs for kitchen, baths, laundry rooms and more.  We offer multiple cabinet lines enabling us to work with any budget, style, obstacle, or need to create your perfect space. We use the industry's top cabinetry design software to present realistic renderings for your space, bringing your vision to life.
Custom Cabinetry & Countertops Granite World is the premier fabricator and installer of Granite, Quartz and Marble in the tri-state. What separates Custom Cabinetry & Countertops Granite World from our competitors is our passion for handcrafting works of natural stone art that become the centerpiece of your living spaces.
From first contact our customers are engaged in a design, fabrication and an installation process that is unique to their tastes and accommodating to their busy lifestyles.
We at Custom Cabinetry & Countertops Granite World take equal pride in our effort to build better communities and enhance the lives of those we come into contact with.  We believe that our lives are enriched by having made your acquaintance and guarantee that we will make every effort to make you proud to have made ours.  This is a guarantee that is "etched in stone."
Joe Nienaber, our owner and founder, purchased a small granite fabrications business "Granite World" on September 22, 2007 in Burlington, KY.  There wasn't much to the operation at the time; it had a van, granite bridge saw, some polishing tools, a fax machine and some granite in the yard.
As years passed, we organically grew our retail footprint.  Joe bought a building in Covington that was no longer on the market, and with the help of family and many friends, the building was converted into a granite fabrication space, indoor slab warehouse, office and showroom.  It was an amazing space, and it was "ours".  This would become the house that we would grow up in.
Our biggest obstacle at this point was cabinets. Most natural stone fabricators have relationships with builders and cabinet companies.  We had some builders that were loyal to us, however we struggled to find any partnerships with cabinet companies.  For this reason, we decided to look into designing and selling cabinets. In 2012, we formed a relationship with an Amish cabinet company. Kathleen Klotz, one of our designers, quickly gained a command of that part of the industry, and it wouldn't take long for her to become one of the best designers in the tristate!
In 2014, Joe made a deal to build out and lease the space for a retail location for Granite World at The Shoppes of Ft. Wright. All of our cabinets and countertops were handled out of the Ft. Wright Showroom, but our countertop fabrication and installation stayed in the Covington location. 
The only thing missing at this point was having all aspects of our business under one roof. In 2017, we decided to make the move to Park Hills, KY where we found a space large enough to house our entire operation. Our Park Hills location was the best business decision we have made to date. It is our forever home in our hometown!
Why Granite World?
Locally owned
Invested in Northern Kentucky 
We have the highest quality craftsmanship
100% Custom Countertop Fabrication
Premium Cabinet and Countertop Materials 
Best Value for your money 
100% Granite World employees
Quality Driven Work Force
1-year warranty on Countertop Installation 
Experienced and Creative Cabinet Design Team
You Dream It, We Built It
Custom Cabinetry Countertops Granite World earned the 2019 Platinum Award from Mouser Cabinetry! Based on sales, we were #1 in the REGION and #5 in the USA for sales in 2019!
We are honored to receive this prestigious award from our friends at Mouser Cabinetry. This was made possible by our wonderful design teams and the entire crew helping our customers make their dreams come to life. A huge thanks to our loyal customers as well! Without you, we wouldn't be here. 
Custom Cabinetry & Countertops by Granite World also recevied the Best of NKY Award in the Home Remodeler category in 2019, and we are nominated for the 2020 award!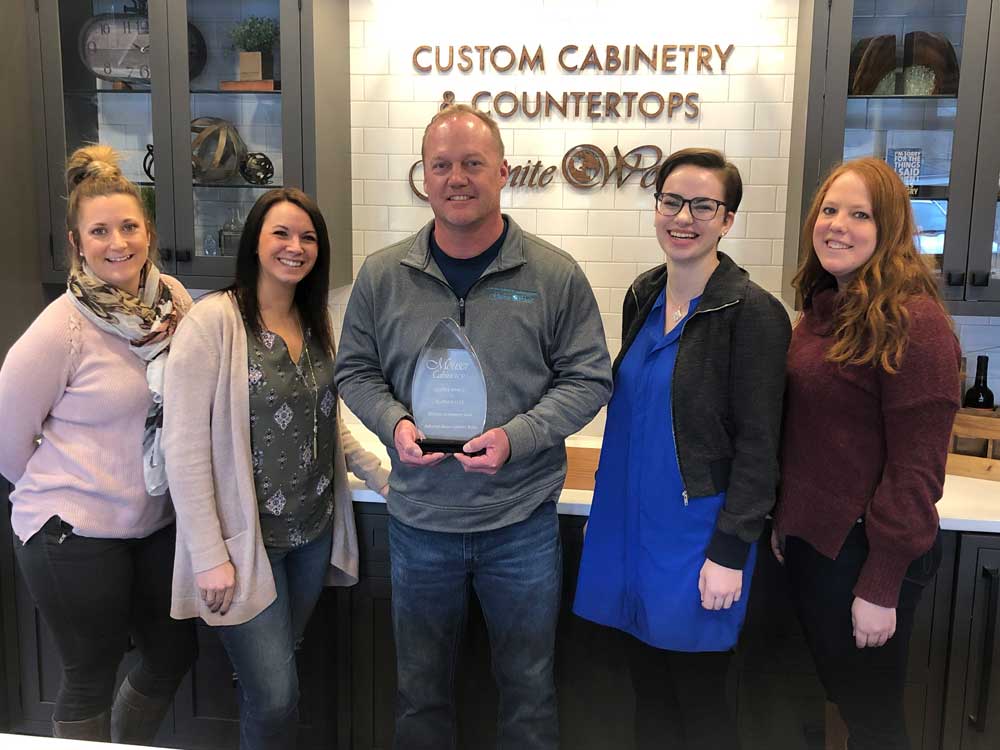 Years of Combined Experience